Banks remain an integral part of the modern business world. Every day, business customers rely on banks to provide essential services that allow them to function. Despite this, many traditional banks and FIs feel under pressure from nimble market disruptors, including businesses emerging from the fintech sector. 
As such, there are growing calls for banking businesses to modernise aspects of their customer offering. This option is possible but must be approached in a way that sees services updated in line with the genuine needs of loyal business customers. If handled correctly, banks will be able to retain clients and acquire new customers simultaneously. 
That's because banks in their current form are far from broken. 
Adaptation not transformation
To improve how banks serve their customers, it's important to not 'throw the baby out with the bathwater'. Instead, banks should focus on subtle step-changes, which allow them to strengthen existing internal mechanics. If handled correctly, these shifts could soon help unlock an even larger base of customers for companies in the field. 
Thankfully, there's ample evidence that the banking sector is up for this challenge and ready to evolve. 
The pandemic marked a new dawn across several industries, but few sectors felt the change as immediately and undeniably as banking. Fortunately, rather than stalling in the face of COVID-19, the banking sector showed an exceptional willingness to embrace and enact change, particularly concerning the adoption of modern technologies. 
This adaptability has underlined the immense staying power of traditional banking institutions. While the new kids on the block, aka the fintech disruptors, may have all the tech know-how, do they really have what it takes to provide a full banking service suitable to our nation's economic backbone; small-to-medium sized enterprises (SMEs)?
Who really needs to change?
Therefore, are these emerging fintech businesses that are in most need of change? 
Well, I believe that this is more likely than anything else. In general, I believe so-called 'disruptor' companies who fit this description would be best placed to stop spending energy, money and resources trying to fix what isn't broken. Instead, emerging businesses should focus on improving areas that directly benefit the lives of everyday customers. 
By my estimations, the fintech sector has now reached a pivotal point in its short history. Driven by an influx of interest, funding and talent, the industry now finds itself fighting to make meaningful improvements for customers while also making a return for investors. It's a very precarious position, which leaders must carefully manage. 
A new approach
To capitalise on this moment of uncertainty in the fintech sector, banking companies must start bringing their existing customers on a digital adoption journey – but what will this entail?
As I mentioned before, the answer is to push adaptation, not transformation. We're seeing some banks stressing over concepts like blockchain and virtual currencies, wondering how to best incorporate them into existing payment systems. This implies that our current payment systems are broken, which is not the case, particularly in our domestic payment systems.
Another example is Artificial Intelligence (AI), which is an exciting idea, but a long way off from making a real difference within the SME banking sector. If you are a tradesperson, are you really going to benefit from a bot that predicts your cash position if you aren't yet using a smartphone to run your business? So, I ask banks and fintechs alike, would attention and efforts not be best focused on first solving some of the long-standing pain points that actually affect SME business owners daily.  
I would certainly say so. 
Facing up to the challenge
When we assess the SME market, we immediately see some of these businesses' problems. For one, SMEs are very time-poor, and they need tools to help them join the dots of their day-to-day tasks. It's no use issuing an invoice if there's nothing to help collect the money and more importantly, something else that helps them chase those late payers – eliminating the need for that awkward phone call. Banks need to go the extra mile with tools to automate processes rather than thinking just about the payment.
Putting practicality first
Shifting towards less innovative but more practical financial services will help banks better serve their customers and lay the groundwork for increased sales. To ensure this shift is happening, banks should look to refine marketing approaches and pivot away from typical 'banking-style' communication strategies. 
It's also time for the industry to finally acknowledge the importance of collaboration. The best example of this is probably APIs. Many adjacent industries have done great things with APIs, but the banking sector remains slightly behind in how we use them to generate results. This must now begin to change. 
I could highlight so many other relevant examples lost in the fintech echo chamber in pursuit of loftier but less essential objectives. What we need now is some regression to the norm, a moment for banks to reaffirm their continued importance by doing the things that SME customers need them to do most. 
Putting banks at the heart of business
At Bankifi, we're wholly committed to this goal. We want to help to put banks back at the heart of business. Our technology gives banks access to the technological solutions they truly need, all in one, accessible place. It's a game-changing approach, which we believe will put banks in a position to authentically help their customers. 
In fact, we aim to help two million small businesses solve their real-world problems by 2024. So, we'll be focused on solving the problems that exist right now, not problems that we might expect to see at some unspecified future date. We truly believe that if something isn't broken, then there's simply no need to try and fix it. 
This means reducing late payments and offering companies solutions that make business management easier. Similarly, it means bringing solutions to market that save customers time and money. Ultimately, it's all about using technology to complement existing processes.  
I personally think that's a goal we can all get behind!
***
About the Author: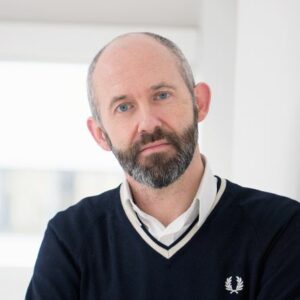 Mark Hartley is the Co-Founder and CEO of BankiFi.
For more information about BankiFi, please visit: https://www.bankifi.com/